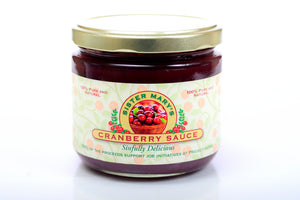 Sister Mary's Sinfully Delicious Cranberry Sauce is an appetizing employment initiative of Project HOME.
We utilize Sister Mary's family recipe of all natural ingredients to create a rich mix of tart but sweet cranberry sauce.
Ingredients:
Cranberries
apple cider
granulated sugar
and brown sugar.
No preservatives or additives.
You can purchase an individual jar or a case of 12 jars.
Buy Now to Help End Homelessness.